Coffee Near Me
Coffee Near Me
Lucky Detroit Coffee: A Cup of Comfort and Joy Near You

Ah, coffee. That warm, comforting drink that speaks to your soul and helps you get through the day. But finding a good cup of coffee near me can be tricky. Fear not! Lucky Detroit Coffee has you covered with quality coffee beans roasted and brewed right here in the Motor City. Let's take a look at what makes this local favorite so special.



Lucky Detroit Coffee
Lucky Detroit Coffee is a venture started by husband and wife, who decided to open a small cafe in their hometown of Detroit, Michigan. Although they were new to the coffee business, these two had big dreams for their small cafe—they wanted to provide customers with quality coffee that was both delicious and affordable. So they set out on their mission to create the perfect cup of joe.

To ensure that every customer had an enjoyable experience, they sourced beans from around the world and then took care to roast them slowly and evenly in order to bring out all of their natural flavors and aromas. They also paid attention to detail when it came to brewing each cup of Lucky Detroit Coffee. They used only filtered water and freshly ground beans for each brew, ensuring that every cup was as fresh as possible.


Why Choose Lucky Detroit Coffee?

At Lucky Detroit Coffee, we understand that there is no such thing as one-size-fits-all when it comes to coffee drinking preferences. That's why we offer an extensive selection of blends for every taste—from light roasts for those who prefer something milder in flavor all the way up to dark roasts for those who like bolder flavors. No matter what kind of coffee drinker you are, we have  something that will suit your tastes perfectly!

If you're looking for great coffee near me, look no further than Lucky Detroit Coffee! Our commitment to quality ensures that you'll always receive a fresh brew made with only the finest ingredients available so you can enjoy your favorite beverage with peace of mind knowing it was created with love just for you! Stop by today or order online now and experience the taste of excellence – right here at home!
INSIDE LUCKY DETROIT LOCATION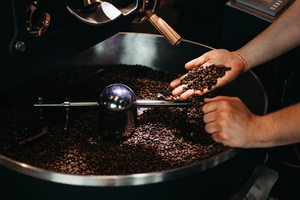 Lucky Detroit Coffee & Espresso - Coffee Shop Detroit